Lootsage
Been hitting some targets past couple days... Here is teh loots:



Grats to Chopman on Yttrium Studded Leather Boots

Grats to Vinlaiven on Black Ornate Chain Bridle

Grats to Kazh on Yttrium Wrapped Sleeves

Grats to Barad on Pendant of the Triumphant Victor

Grats to Dmonger on Girdle of the Tactician

Grats to Audreya on Cog Encrusted Epaulets

Grats to Barad on Polished Smoothmetal Torque

Grats to Runnydrizzler on Polished Smoothmetal Torque

Grats to Niniinka on Yttrium Wrapped Sleeves

Grats to Tommo on Yttrium Studded Mantle

Grats to Straman on Yttrium Studded Leather Boots

Grats to Alhia on Cap of the Silent Star

Grats to Belquillon on Bracer of the Silent Star

Grats to Yyubbu on Cord of Midnight

Grats to Adriak on Cord of Midnight

Grats to Crimsonwolf on Shaded Amice

Grats to Lourob on Shaded Amice

Grats to Yyubbu on Umbracite Bracer

Grats to Romendacil on Ring of Rage
Posted on Thu May 29, 2003 3:00 am by Bidin
5/17 L33wtz
We spent a bit of time in VT in the past 2 days. We also visited our two favorite Luclin "kings" Lord Seru and Emp Ssra. Teh l33wtz:


Rumblecrush

Grats to Bidin - Breastplate of Integrity

Grats to Shaolu - Chooser`s Cap


Kaas Thox Xi Aten Ha Ra

Grats to Emptysoul - Cloak of the Black Wind

Grats to Alliance - Belt of Mastery

Grats to Aallaan - Wand of Everlasting Water

Grats to Niniinka - Ancient: Destruction of Ice

Grats to Audreya - Mask of Piety

Grats to Alec - Nightcaller Leggings

Grats to Smeltty - Orb of Satisfaction


Blood of Ssraeshza

Grats to Belquillon - Ssraeshzaen Honor Guard Bracer

Grats to Bakko - Mace of Confusion


Emperor Ssraeshza

Grats to Shaolu - Gebron`s Demented Cloak

Grats to Tullili - Shawl of Awakenings

Grats to Chopman - The Sword of Ssraeshza


Lord Inquisitor Seru

Grats to Theoso - Ancient: Gift of Aegolism

Grats to Chopman - Yttrium Wrapped Sleeves

Grats to Kilique - Yttrium Studded Mantle

Grats to Crysanian - Sword of Truth

Grats to Taetynwych - Bloodied Berserker`s Blade

Grats to Belquillon - Head of the Inquisitor for Sigil Earring of Veracity


Comming Soon....





PS.. We miss j00 Osiiris. Get that comp fixed~
Posted on Sat May 17, 2003 10:31 pm by Bidin
Barrel`o`Halfling
I log on Wednesday afternoon to do a little tradeskilling. Suddenly I see a cry for help in guildchat.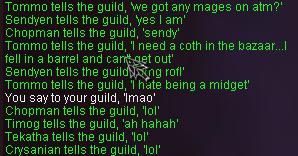 One of our furry friends had managed to get himself into one of the barrels in the bazaar and was unable to get out.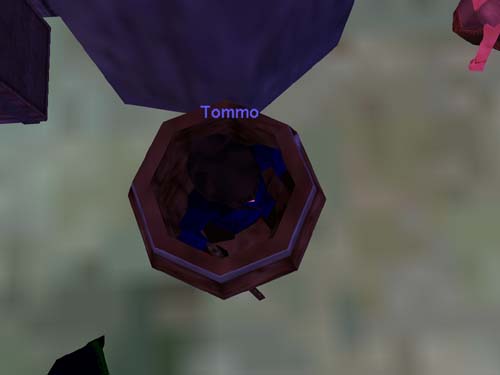 One of Eternal Sovereigns great Magicians came to Call of the Hero him out of the barrel only to find that CoTH wasn`t able to be casted in the Bazaar.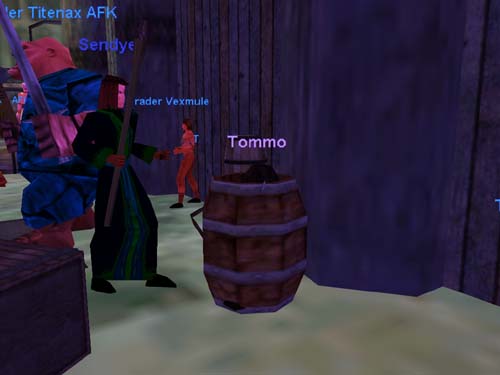 Fazin the wizard hearing all the noise came and translocated Tommo out of the barrel.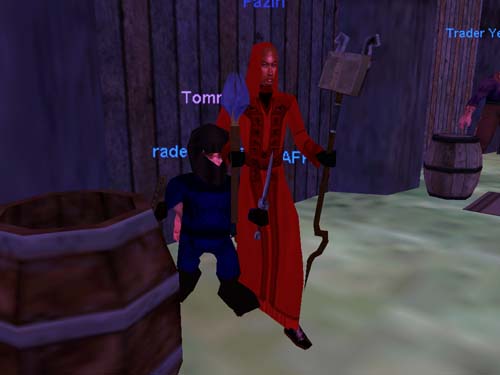 How many ES did it take to get a Halfling out of a barrel?
5.
Sounds like a bad joke eh?

The loots over past few days:

Thall Va Kelun
Grats to Sonami - Cloak of Frozen Flames
Grats to Romendacil - Sanguine Gloves

Diabo Xi Va Temariel
Grats to Bidin - Shroud of Vigor

Va Xi Aten Ha Ra
Grats to Mingo - Bone Earring of Evasion
Grats to Rakkar - Lunar Fungus Covered Tunic

Aten Ha Ra
Grats to Laiderone - Mail of Judgement
Grats to Vinlaiven - Leggings of Secrets

Thall Va Xakra
Grats to Niniinka - Cap of the Silent Star
Grats to Suleka - Cloak of Icy Shadows
Grats to Ollee - Cord of Midnight
Grats to Ollee - Shadow Footpads
Posted on Thu May 15, 2003 9:04 pm by Bidin
Grakdrak...a main tank???
Okay explain to me how Grakdrak has risen to one of the most powerful shadowknight in Eternal Sovereign, his ability to tank tough mobs just as well as our strong warlords?


I decided to hire a P.I gumshoe, Tudana, and with her sneaky antics. She managed to obtain proof of not why Grakdrak is so motivated but what`s BEHIND the motivation.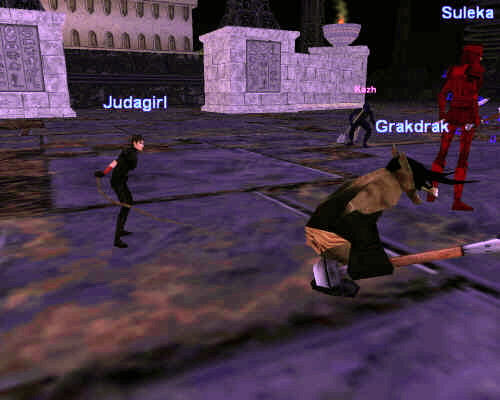 Yet another reason why I have been against pallies. I told you guys it was a bad idea to let her in. I don`t care if she motivating our tankers to go above and beyond the call of duties. It`s still a bad idea to let her whip us into frenzy and dominate all those mobs especially some that has been a guildfirst for us.


Gratz to ES on winning guildfirst kills against all three HoH trials, the zek twins, and the Carprin cycle. We also farmed some other targets to keep our people geared with top of the line loots. Here they be...


Grummus


Fetid Flesh Wristband - Grats to Alliance

Chunk of Decaying Cloth - Grats to Mingo


Paffa


Rotting Hide Cape - Grats to Lourob, Adriak, and Valkyri


HoH trials


Intricately Inscribed Band - Grats to Cazteal and Crysanian

Elven Bow of Mysticism - Grats to Maktabi

Grandmasters Mace - Grats to Lourob


Vallon Zek


Girdle of the Tactician - Grats to Barad

Pendant of the Triumphant Victor - Grats to Patrisha

Resplendent War Maul - Grats to Reiely


Tallon Zek


Veteran`s Battle Charm - Grats to Noircogi and Grakdrak

Battle Fists - Grats to Valkyri

Warmaster`s Recurved Longbow - Grats to Sweepor and Maktabi


Aerin`Darr


Wrath of Mithaniel - Grats to Ollee

Valorous Quarterstaff - Grats to Romendacil


Manaetic Prototypes


Cog Encrusted Epaulets - Grats to Alliance

Polished Smoothmetal Torque - Grats to Klarissa

Sharp Ended Broken Lever - Grats to Alhia


AoW


Flayed Barbarian Hide Mask - Grats to Suleka

Flayed Barbarian Skin Leggings - Grats to Adriak

Helmet of Rallos Zek - Grats to Mirarra


Ssra


HP - Shield of Ssraeshza - Grats to Crysanian

glyph - Black Runed Talisman - Grats to Cazteal

Cursed - Black Runed Pants - Grats to Jadine and Lezard

emperor - Gebron`s Demented Cloak - Grats to Jadine


Seru


Bloodied Berserker`s Blade - Grats to Quaymar and Kazh

Glowing Amber Band - Grats to Mystieaxe and Fehklar

Seru`s Torque - Grats to Tullili

Starred Yttrium Ring - Grats Fehklar

Yttrium Studded Leather Boots - Grats to Mirarra

Yttrium Studded Mantle - Grats to Chopman


DXXT


Ring of Flamewarding - Grats to Danenel

Obsidian Necklace - Grats to Dmonger and Shcammy


TVX


Living Symbol - Grats to Fehklar and Aallaan

Cloak of Icy Shadows - Grats to Bidin

Cord of Midnight - Grats to Chopman

Gorget of Superiority - Grats to Sumorm and Foddin

Steel Skin Armplates - Grats to Arocus

Boots of Silent Dreams - Grats to Grrumble
Posted on Tue May 13, 2003 11:39 am by fazin