Friday night... or was it Saturday morning?
We thought it was going to be a quiet, relaxing raid night. VT warders were bugged, again, and the GM's were indifferent, again, so we headed for the Zek boys. VZ dies and we say "forget this chump of a zone, let's go kill that blue dress wearing freak, Agnarr!" (For those of you who thought, perhaps, I was talking about Belq, I will remind you his dress is a lovely shade of mint green these days.) Anyway, to make a long story short, someone shouts in /gu Warders down!. In the usual fashion, Sonami threatens our well being and we book it for VT. Our rather light crew, proceeded to whoop up on a bunch of four armed things with confusing names.



VZ first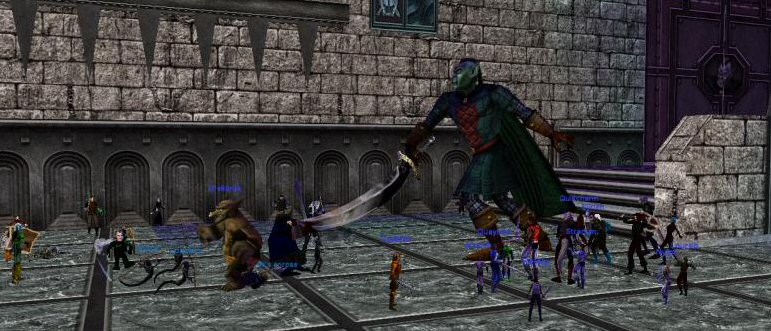 Congratulations to Johrune who received an Obsidian Scimitar of War and Audreya for a Furious Hammer of Zek. Yes, that is a naked Grakdrak he is pointing a sword at and, no, I won't tell you what happened next.
<br>


Then, onto VT!



TVK netted Lourob an Earring of Falling Stars and a Girdle of Focus for both Rakkar and Rohgziel.


Then onto the free loot guy, a.k.a. DXVT, who coughed up a Shroud of Vigor for Sonami, a Lightbringers Earring for Lourob and an Umbricite Swarm Orb for Hanamorf! Vinlaiven also picked up a Living Symbol that one of the million trash mobs prior to him was kind enough to drop.

Finally on the top floor, Mini Aten died quickly yielding a Cloudy Steel Mask for Tudana, a Bone Necklace of Battle for Kanvil and Slippers of Dark Whispers for Jadine.

We were about ready to call it a night, but figured we should probably kill Aten first. We had a problem when Biku got a bit upset with Chopman for repeatedly saying he wanted to 'tank' the four arm momma. But, after that was settled, she was dispatched after the usual twenty minute afk session. Crysanian received the Mail of Judgement, Chopman got some Greater Shadow Platemail and Thalsadoom took home a Silver Band of Secrets. Last but not least, Bolaliel was awarded the Soul Essence of Aten Ha Ra resulting in the Talisman of Vah Kerrath. Congrats everyone on a long but loot-filled night!
Posted on Mon Jun 23, 2003 6:56 am by Arocus
cupcake
then Daddy said !!!!!

"CUPCAKES for EVERYONE"

boy did I zerg that cupcake

My DPS was greater than Daddy overnuking a mob !!!!!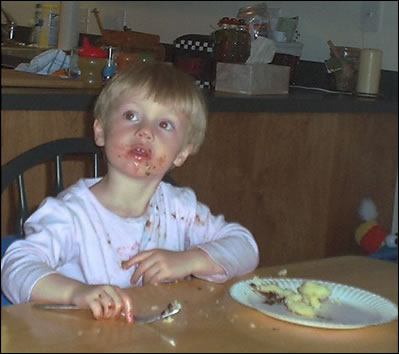 Posted on Thu Jun 19, 2003 5:08 pm by belquillon
It got even better?
Welcome to the newest version of

eternalsovereign.org

!



The guild owes it all to the hard work of our long time webmaster TEFKAA (The Elder Formerly Known as Athame). He puts in a ton of time to make this the absolute best guild website anywhere. What else can we say? The lizard ROCKS!

The new design introduces a whole new level of functionality and customization. Take a moment to browse all of the sections. Color schemes can be changed under the profile menu.

If you're not a member of Eternal Sovereign, you don't even get to see the good stuff. Jealous? If not, you should be.

Enjoy everyone!




On to loot news.

We had a light night tonight raidwise. A short trip to the Bastion of Thunder netted a Great Stormwatcher Horn for Ayngwysh and Stormriders Signet for Cazteal.

Last, but not least, welcome to our newest members, Sanedan, Biku, Gherek, and Sensorian.
Posted on Thu Jun 19, 2003 8:35 am by Arocus
06.17.03 A very busy day
We started the night with the Zek Brothers
Posted on Wed Jun 18, 2003 7:40 pm by Barad